Everyone is invited to come to the Austin Urban Market to support local businesses. Your support is key to the continued success of local business owners. Let's all start "Doing It The Ujamaa Way". Come and win Ujamaa Bucks that can be used to purchase products and services at the event.
PRESS RELEASE For immediate release: August 7, 2009
Contact: Don Ellerby
512-785-7045 or austinurbanmarket@gmail.com

Austin Urban Market introduces "Ujamaa Bucks", which promotes local businesses by offering a stimulus program for participating businesses by "Doing It The Ujamaa Way".

Event: Austin Urban Market, Theme: "Doing It The Ujamaa Way"

Cost: Free to the public

When: Saturday, Sept. 12, 2009

Where: Villager Newspaper, 1223 Rosewood Ave. Austin, TX

Time: 10:00 a.m. – 4:00 p.m.
Feature: "Ujamaa Bucks" to be won by the visiting public which can be used like cash with vendors at the event.
Feature: SkyDev entertainment artist showcase.
The August 1st Austin Urban Market was a success and sincerely enjoyed by both vendors as well as the visiting public. The public enjoyed winning the Ujamaa Bucks and the vendors enjoyed the bucks being spent for the their products and/or services. The winner of the pair of Kirk Franklin tickets was very excited. There were autographed books sold and raffled off, GSI a nearby business was a great source of support and also donated t-shirts and a cap which was raffled off to the public.
The Austin Urban Market is a grassroots event that showcases local businesses to the Austin Community. Ujamaa is a Kwanzaa Principle, meaning cooperative economics. In these tough economic times, what better way to boost your local economy than by patronizing Austin-owned businesses offering a variety of items such as handmade jewelry, African décor, handmade dolls by Brown Fabrications. You can get one to the best chair massages by Joyce's Mobile Massage, eat some delicious food by Lula Mae's Catering and treat your skin to the soothing and therapeutic handmade oils and butters by African Visions designed for the entire family whom is also providing free samples of African Raw Black Soap, Ujamaa Bucks, Come enter the Free Drawing for 1 pair to tickets to (event to be announced. Come shop while listening to poets and a music mix of jazz, old school and R&B.
Vendor space is limited; booths are $30 before Sept. 12th deadline and $50 after. For more info please contact Don Ellerby at (512) 785-7045 or email austinurbanmarket@gmail.com.
Sponsors: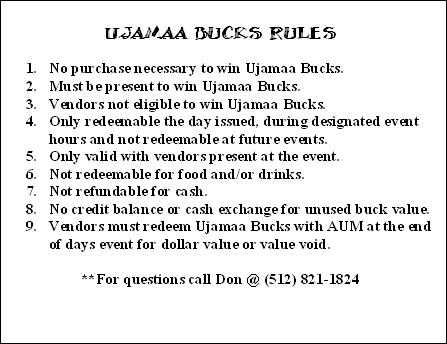 What is Ujamaa?
Ujamaa (Cooperative Economics) The fourth principle in Kwanzaa – "To BUILD AND MAINTAIN our own stores, shops and other businesses and to profit from them TOGETHER." In other words, BAM Together!!!!
An excerpt from Black Families by Harriette Pipes McAdoo:
Ujamaa stresses self-reliance in the building, strengthening, and controlling of the economics of our own community. Ujamaa means "first and foremost…that for our development we have to depend upon ourselves and our own resources." The assumption here is that we must seize and maintain the initiative in all that is ours, and that we must harness our resources and put them to the best possible use in the service of the community. This does not mean denying all assistance from or that we not work with others, but it does mean controlling policy and shouldering the essential responsibility for our own future. Ujamaa emphasizes the essentiality of work to the well-being and development of persons, family, and community. It also focuses on working together to achieve what we need and want for both the personal and collective good. Working together means not only that we increase our productive capacity but also that we strengthen our claim to sharing what we produce. Ujamaa also stress on an obligation of generosity, especially to the poor and vulnerable.
Throughout the sacred teachings of ancient Egypt in particular and Africa in general, the ethic of care and responsibility is expressed in the concept of shared social wealth and service to the most disadvantaged. This moral concept finds it modern philosophical expression in our social thought and struggles, as a people and for social justice. And this struggle is not simply to be generous to the poor and vulnerable but ultimately to end their poverty and vulnerability, so that they too can live a decent, undeprived, and meaningful life. For only in such a context will they be able to pursue the truly human without the limitation imposed by poverty, deprivation, or the debilitating struggle for just life's basic necessities. To share wealth and work, then to share concern, care, and responsibility for a new, more human and fulfilling future.
For more information contact: Don @ (512) 785-7045 or email: african_visions@yahoo.com